If you have the chance to get away from big cities and light pollution, astronomy is possibly the most beautiful of hobbies. Telescopes today are more affordable and allow you to observe celestial bodies that were reserved for certified astronomers not too long ago! Here is our top 5 list of telescopes.
Celestron – NexStar 8SE Telescope
Nexstar computerized telescope: The NexStar 8SE Computerized Telescope features Celestron s iconic orange tube design with updated technology and the latest features for amazing stargazing for beginners and experienced observers.
Pros:
User-Friendly Interface

High-Quality Optics

Expandable

Portability

Versatility
Price
Battery Life
Learning Curve
Limited
Astrophotography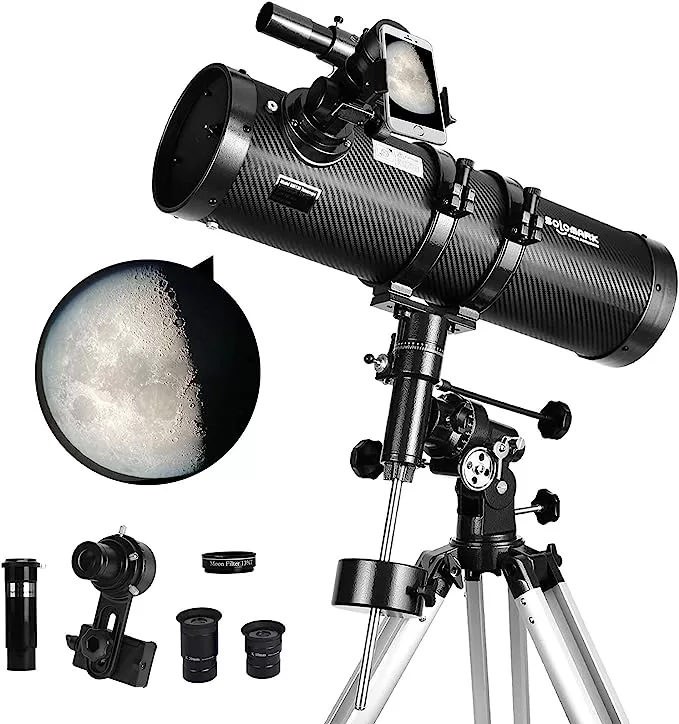 Celestron AstroMaster 130EQ
High Quality Optics: The telescope adopts a sturdy and light fram structure, the carbon fiber was covering on the telescope surface, sophisticated technology.
Large aperture 130mm telescope, high resolution, good light collecting ability, imaging brighter, more suitable for the observation of deep space celestial objective.
One of the biggest draws is its affordability

Decent Aperture Size

Sturdy Equatorial Mount

Ease of Assembly

Beginner-Friendly
Portable
Limited Light Gathering
Optical Aberrations
Manual Tracking
Slightly Steeper Learning Curve
Not Ideal for Serious Astrophotography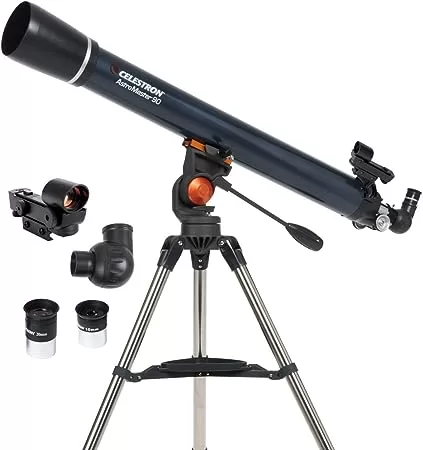 AstroMaster 90AZ
An interesting option for people getting into amateur astronomy. A solid entry-level refractor telescope that's particularly good for beginners and those interested in casual stargazing.
The Price!

Easy of use

Quality Optics

Portability

Alt-Azimuth Mount
Limited Aperture
Plastic Components
Manual Tracking
Not Ideal for Astrophotography
Chromatic Aberration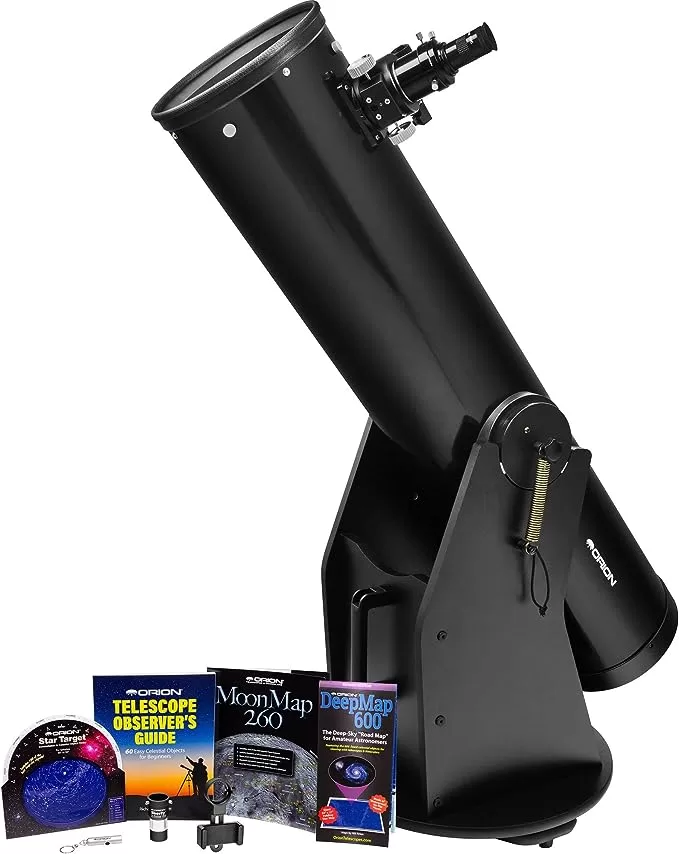 Orion SkyQuest XT8 Classic 
Simple hands-on, point-and-view navigation without complicating counterweights, gears, clutches, polar alignment, or the need to balance the tube. Easy and fun!
Easy of use

Large Aperture

High-Quality Optics

Value for Money

Upgradeable
Size and Weight
Manual Operation
Collimation Required
Learning Curve
Limited Astrophotography Capabilities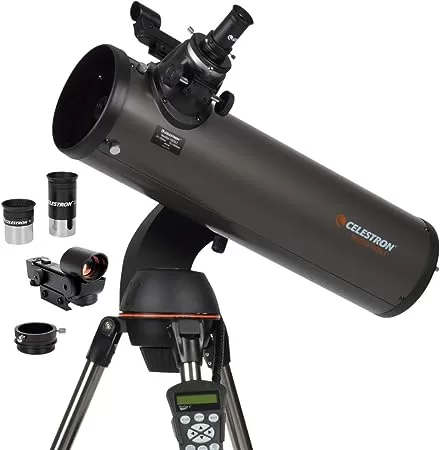 Celestron – NexStar 130SLT
Computerized Telescope – Compact and Portable – Newtonian Reflector Optical Design – SkyAlign Technology – Computerized Hand Control – 130mm Aperture
User-Friendly Interface: The NexStar 130SLT comes with a computerized GoTo mount that can automatically locate and track celestial objects, making it very beginner-friendly.

Decent Aperture: With a 130mm aperture, this telescope offers good light-gathering ability, letting you see a wide range of objects like the Moon, planets, and even some deep-sky objects.

Quick Setup: It features a quick-release fork arm mount and optical tube for an easier setup process, making it convenient for those new to telescopes.

Portability: Despite its capabilities, the NexStar 130SLT is relatively lightweight and easy to transport, making it a good choice for stargazing trips.

Expandable Database: The telescope's database contains over 4,000 celestial objects, giving you plenty of targets to explore.

Upgradeable: As your skills improve, you can easily add accessories like new eyepieces or filters to enhance your viewing experience.
Battery Drain: The computerized mount and tracking system can drain batteries quickly, so investing in an external power supply might be necessary.

Alignment Required: You'll need to align the telescope each time you set it up for accurate tracking. While not overly complex, it's an extra step that some might find tedious.

Optical Quality: While decent, the optical quality may not be on par with higher-end models. You may notice some optical aberrations, especially at higher magnifications.

Limited Astrophotography: Although the telescope is capable of some basic astrophotography, its alt-azimuth mount and other features make it less ideal for more serious astrophotography tasks.

Cost: While not excessively expensive, the added features like computerized tracking do bump up the price compared to simpler models with similar optical capabilities.
If any information is inaccurate, please don't hesitate to send us an email at info@action50plus.com
Thanks!